Supply of new and reclaimed spare parts for amusement machines. We are based at Havant near Portsmouth. Established in 1977. From the early days of electro-mechanical games we can now supply you with a wide range of spare parts for amusement machines. Since setting up the web site in 1997 the range of new spare parts available has gradually increased to what we have today. This has been achieved by quality and customer service. some used machines and games are also available for sale and are listed on the games sales page.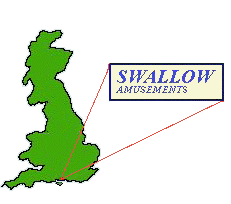 Hampshire road map.
Havant location map.
---
How to contact us.
Mail:
Swallow Amusement Machines.
2(B) Blendworth Crescent,
HAVANT,
Hampshire.
PO9 2BE.
United Kingdom.
Orders may be collected and paid for in person by prior arrangement. Please call first to arrange a time. If you turn up unannounced, you may find us closed.

E-Mail:
swallow@swallowam.co.uk
Phone:
During office hours only please. 09:00 to 17:00. Monday to Friday. 10:00 to 13:00 Saturday.
Mobile
07752 691 474
International
+ 44 7752 691 474
---
Ordering information and carriage costs for spare parts.
Parts and PCBs' . Use the "Add to cart" buttons make your order. P&P will be added for UK delivery. Overseas, please ask for a quote. Paypal payments (UK only) to "swallow@swallowam.co.uk. Cheques should be made payable to "Swallow Amusement Machines" and sent to:

Swallow Amusement Machines.
2(B) Blendworth Crescent,
HAVANT,
Hampshire.
PO9 2BE.
United Kingdom.
P&P Charges for UK parts orders. UK ONLY. No overseas orders accepted.
Up to £74.99 goods value excluding P+P.
£3.95
£75 to £149.99 goods value excluding P+P.
£3.95
£150 and over
£3.95
Additional services or insurance on request.
---
Methods of Payment for UK Orders.
PayPal. Click Here. P&P will be added by Paypal at the checkout.
Cash (UK Sterling).
Electronic funds transfer. (BACS)
Bank details available on request.
---
What customers have said about us:

I counted no less than 13 machines supplied by your company which I found excellent. All the machines that you supplied were in impeccable condition and played at the highest standard. I thought it was fantastic the range of machines you had as well, the Apollo 13 right down to the BOP. I played on all the games you had out on site and I enjoyed everyone. Craig.
I would like to say a big thanks for a very fast and professional service yet again. Luke.
Thanks for all your help Steve, I'd never buy from anywhere else. Paul.
Hello Steve, I received the buttons and they look great. Thanks so much and I look forward to doing business with you again sometime. Best regards, Marc.
Went on to Hayling Island today and was surprised to be able to play a VERY nice condition SW Cockpit, and about 7 pins. I can't remember what they all were, but I DO remember that the worst bad point was a very weak right flipper on the Roadshow, so all in all amazing condition :O) Those machines anything to do with someone on here? Find it hard to believe that an op would keep them in that kind of condition!! Gudd.
Please be advised that the PCBs you shipped to me arrived at my home today in good condition. I appreciate the manner in which they were packaged for delivery and I want to thank you for including the nylon stand-offs as well. It has been a pleasure to do business with you. This was a most enjoyable transaction. Thank you again. Best Regards, Tony.
Thank you very much for the prompt delivery and great service, Cheers. Ivan Draper.
Once again your company has provided excellent service, my order arrived this morning, Thank You. Regards Dave.
Thanks for swift delivery, just a quick e-mail to say it has arrived and to say that I have been trying out a few companies on the net to get my arcade bits and bobs and you have been by far the most efficient and reliable. Cheers, Kim.
I would like to say thank you for your excellent service which has always been first class and I will always come to you guys first in the future.
---
Terms and conditions for sales.
All items remain the property of Swallow Amusement Machines and will not be released until paid for in full.
All used machines and recovered parts are tested and working when dispatched. Electronic items are security marked.
All goods are offered subject to availability and testing.
Prices listed liable to change without notice.
No items will be removed from sale until payment or deposit is received.
Unwanted and faulty items should be returned o us with in 14 days of receipt at buyers cost.
Any items returned to us should be agreed in advance by e-mail. Buyer to pay return postage.
Any games purchased or sent here for repair and not collected after 10 days of being ready for collection, will incur storage charges of £2.50 per week or part of. After 16 weeks. Games not collected will be sold on to recover all costs.
In the event of two buyers sending money for one item at the same time, it shall be sold to the first customer. Money will be returned to subsequent buyers.